Do you think that your English is not fluent enough to survive in an English speaking country?
Think again.
If you are skeptical, let me tell you a story of someone you almost certainly know…
He knew very little English when he decided to move to America. He took every type of English class you could think of: speech lessons, writing lessons, even accent-removal lessons.
Through hard work and perseverance he ended up becoming one of the richest and most powerful men in the country.
You might also know him as Arnold Schwarzenegger, the famous actor and former governor of California.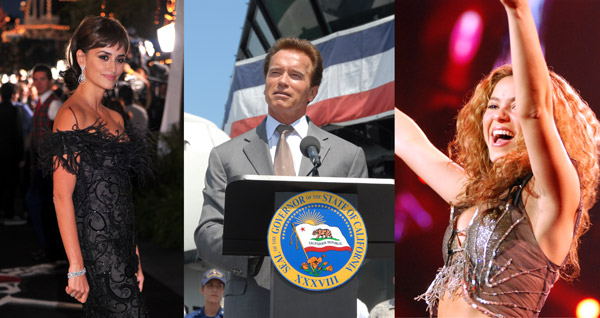 His story shows what you can achieve when you work hard at something. But he's not the only one who started a successful career with little-to-no English skills.
Below you will learn how Shakira, Penelope Cruz and 'The Terminator' have overcome language barriers.
Arnold Schwarzenegger – From Body Builder to Governor
Arnold Schwarzenegger started as a regular bodybuilder and became one of the most beloved governors in the United States. Through hard work and determination, he rose to become one of the richest and well-known men in America.
Arnold was born on July 30, 1947 in Austria. Ever since he was 10 he dreamed of moving to America, and he thought that a career in bodybuilding was a sure-fire way to earn a living.
He began weight training at 15 years old. He won the title of Mr Universe at age 19. At the age of 21, he moved to America speaking barely any English.
He continued bodybuilding in the US, and went on to win many other titles, including the title Mr Olympia seven times. And in between weightlifting sessions, he was taking classes in English.
But what Arnold wanted was to have a career in Hollywood. This dream came true when he starred in the movie Hercules in New York.
For the next decade he struggled with acting because people told him he had a funny accent. Sometimes his voice was dubbed over because he had such a thick accent.
But after the blockbuster hit Conan the Barbarian came out in 1982, his career took off, and he has starred in over 30 movies since.
In 2003 he ran for governor of California and won. He served two terms from 2003 to 2011, and after he left office he returned to Hollywood and has starred in a few blockbuster hits. He seems to have no plans of stopping.
Why Was He so Successful?
Let's break down in detail how he achieved success:
1. Perseverance
Arnold Schwarzenegger wouldn't be a household name if he didn't work hard.
In a recent letter to US immigrants, he stated:
"With hard work and determination, and because the American people were so generous and welcoming, I have succeeded beyond my wildest imagination."
He knew that in order for him to become successful in bodybuilding, he had to work hard in the gym in order to transform his body. Would he have won so many bodybuilding titles if he didn't persevere?
He didn't let anyone discourage him, even when people told him he had a funny accent. Instead, he worked at removing his accent and learnt as much English as possible.
He has said openly that it was difficult for him when he first moved to America, but that it never stopped him.
"Strength does NOT come from winning. Your struggles develop your strengths."
– Arnold Schwarzenegger
He also worked hard to find the right people to help him be successful. If he had given up when things were tough, he wouldn't have accomplished so much.
2. Purpose
Arnold was very clear about what he wanted since he was a small child. That is, to move to America. He knew that he wanted to be successful and live the 'American Dream'. In his letter to immigrants he also says that
"to make it in business and Hollywood, I knew I had to take English lessons, speech lessons, accent-removal lessons – anything to improve my chances of success."
Being clear about why he was learning English helped him to focus on his goals.
3. Immersed in Language and Culture
Arnold Schwarzenegger recognized that if he wanted to learn English well, he had to be surrounded by as much English as possible.
He took English classes in order to be able to read newspapers and magazines, and to be able to take classes in other subjects. He wanted to do this so he could learn as much about American culture as possible.
He also found opportunities to practice English whenever he could. When he first moved to California, he worked at a fitness store so he could practice English. He also went to London to live for a while with Wag Bennett, a judge from the Mr Universe contest. He spent time with Wag's family including his children.
In America, he surrounded himself with people who only spoke English. He states in his autobiography Total Recall:
"I made it a rule to date only American girls; I did not want to hang out with girls who knew German."
Penelope Cruz – From Hispanic Starlet to Hollywood Star
Penelope is known in Hollywood as a sexy Hollywood starlet. She rose to fame in her debut English-language movie, Hi Lo Country. In 2009, she went on to become he first Spanish actress to win an Oscar for her supporting role in the movie Vicky Christina Barcelona.
She was born in April 28, 1974 in Alcobendas, near Madrid in Spain. She claims she had a simple childhood in a working class town.
She started acting at the age of 15. Before that, she wanted to become a dancer, and studied at the Spanish National Conservatory for 9 years.
She had already starred in over 10 Spanish films when she moved to America at the age of 20. She admits to knowing very little English then and only knew how to speak her lines. When she left after 2 years she recalls only knowing 2 phrases: 'How are you?' and 'Thank You'.
She continued to act in Spanish movies and became more famous in America with the movie Vanilla Sky in 2001. Since then she has filmed over 20 movies in both English and Spanish, and on April 1, 2011, she was the first Spanish actress to receive a star on the Hollywood walk of fame.
Why Was She So Successful?
Penelope's incredible story of success didn't come easily. She admits to learning English "kind of late" and is still getting comfortable with the language.
Not only did she work hard like Arnold Schwarzenegger, she also did the following 3 things:
1. Lifelong Learning
Even today Penelope still has someone to help her with her English. At the beginning of her career, she learned scripts phonetically and gradually built up her vocabulary.
Even though she is able to conduct interviews in English and communicate fluently, she still has a voice trainer to work with her. When not working on films, she continues to study English to improve her skills.
2. Being Dedicated
Penelope Cruz made sure she memorized her scripts and important phrases that were crucial to her job. Even when she didn't know what certain words meant, she knew how to read them phonetically and worked hard to convey the right emotions when filming.
She always trains for each role and has someone on set to help her with pronunciation and accents.
3. Learning from Mistakes
Penelope Cruz admits during interviews that she made many mistakes when speaking English. Some mistakes she claims were so embarrassing that she learned "the hard way".
Amongst the funniest, she accidentally made sexual advances at a hairdresser when she tried to get her hair styled. Still, she kept speaking English.
Shakira – Singing Her Way to Success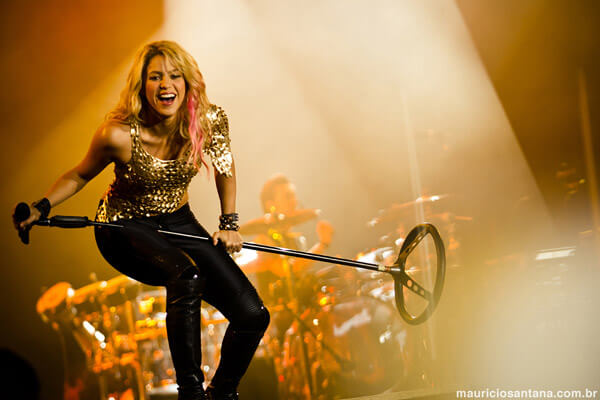 Shakira is a global superstar and burst into the English music scene with her first hit Whenever, Wherever. Her debut English language album Laundry Service sold over 13 million copies as a result of her hard work learning English and working with her mentor, Gloria Estefan.
She was born in Barranquilla, Colombia on February 2, 1977. As a small child she loved listening to all sorts of music, mostly English Rock n Roll, Colombian and Lebanese songs.
Shakira started writing her own songs when she was 8 years old and was already winning contests when she was only 10. When she was 13, she moved to Bogota in the hopes of getting a modeling contract – instead, she ended up signing with the a record label and her first album came out in 1991, featuring only Spanish songs.
Shortly after her second album, she decided to sign with Emilio Estefan (husband of Gloria Estefan, also a famous singer) as her manager. When Gloria Estefan offered to translate some of her Spanish songs into English, Shakira realized that she wanted to learn English – that way she can have complete control over her songwriting.
Her English debut album, Laundry Service, came out in late 2001. It quickly rose up the album charts in America, going triple platinum. She went on a global tour and her concerts quickly sold out at every city she toured in.
Why Was She So Successful?
Shakira is a very determined and hard-working celebrity. She came from a poor family and was able to become successful by being in control of her career.
The main reason she learned English so well is because she was motivated to do so.
She had a clear goal – she wanted to write her own songs in English for her new album. In an interview with MTV, she says:
"I had the need and the urgency to express ideas, feelings, thoughts. I had to express all those experiences that I was going through in another language."
Although it was probably challenging at times, she was determined to make it work. She was willing to work hard in order to write her own songs, and was willing to write for hours to craft songs she was satisfied with.
Another reason she was successful is because she knew what she needed to study in order to write English songs. She needed to learn the sounds first, how it worked rhythmically, then used her skills in grammar to express herself in songwriting.
She worked with a tutor to learn how English grammar works. Shakira read Walt Whitman's Leaves of Grass and other works of literature in order to understand written English.
It wasn't good enough for her to know oral English; she knew she needed to write well in order to express herself well in English.
How to Learn English in 4 Steps (And Become Rich and Famous!)
Now that you have a good understanding of what these three celebrities did to become successful, how can you apply what they did?
1. Persevere
All three celebrities knew that being fluent in English was going to be hard. They made many mistakes along the way, but that didn't stop them from trying again and again.
They worked with teachers and practiced with English speakers. You can do the same too. If Arnold, Penelope, and Shakira are able to become fluent in English, why can't you?
2. Use Materials from Real Life
Arnold read newspapers. Penelope read movie scripts. Shakira read English language books. These are examples of materials from real life.
Reading textbooks can be useful, but they can be a bit boring. Find a subject that you are interested in (like fashion, cooking or technology) and find books or magazines on that topic.
The more interested you are in the reading materials, the more you will want to read. The whole point is to get you learning as much English as possible, right?
3. Understand Why You Want to Learn English
Reminding yourself why you want to learn English will keep you motivated when the learning gets hard.
All three celebrities had a specific goal in mind when learning English, and kept focusing on it as they progressed in their studies. This forces you to take your learning more seriously, instead of treating it as a hobby.
Think about why you want to learn English. Be as specific as you can and keep focusing on that reason every time you practice.
4. Immerse Yourself in English
Even though you may not be able to immerse yourself totally in English, do what you can.
You can watch TV shows in English, join local conversation groups in English, or even participate in online forums. Why not go to an English-speaking country for your next holiday?
Conclusion
Remember that success does not come overnight. Just like the celebrities above, you have to work hard for many years before earning success.
The key to their success was dedication, lots of practice and an understanding of why they want to learn English.
Even though you are not a celebrity (yet!), you can still achieve similar success in learning English.
Start by immersing yourself in English for just five minutes every day. Even something that simple can help you become fluent in English in a short amount of time.
How will you immerse yourself in English daily? Who inspires you to improve your English? Share your comments below!